About Us
A family business established in 1977. Still family owned and operated to this day.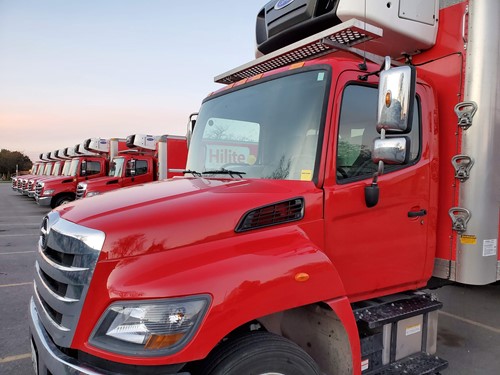 Our History
Founded in 1977, Hilite started off as a retail fruit and vegetable market in Humbertown Shopping Centre. One day a customer, who also happened to own a restaurant, asked the question that changed everything for us…."Why can't I get beautiful produce like this from my vegetable supplier?" We started supplying her restaurant and before we knew it we had a roster of happy foodservice customers who appreciated our dedication to quality and service.
Since then we have made a reputation for ourselves by maintaining a high level of service, consistent quality and the personal touch that only a family owned and operated business can provide. Joe shops the Ontario Food Terminal daily looking for the best quality produce. Hilite supports local growers and did so before it was the fashionable thing to do. We are always the first to have ramps, fiddleheads and Ontario-grown asparagus in the spring, and continue right into the summer with delectable berries, peaches and other tree fruits. After more than 40 years we have not lost our passion for beautiful, fresh produce.
Over the years we have grown steadily and invested heavily in a state of the art facility. We have developed streamlined systems that allow us to serve our customers very efficiently with few picking or shipping errors.  Fewer errors translates into fewer hassles and less stress for our Chefs. We have a fleet of refrigerated trucks on the road, and deliver to many of the finest establishments throughout Southern Ontario and beyond.
Our Founders:
Joe and Brian Siegal have been involved in the produce industry all their lives. Their Dad, David, was known as the Avocado King. He imported and distributed avocados, mangoes and other tropical fruit.
Brian looks after all the financial and operational aspects of Hilite Fine Foods. He is a whiz at developing systems and programs to keep us uber-organized and makes sure all our wonderful suppliers get paid on time. 
Joe is the chief buyer. He is up dark and early every day and off to the Ontario Food Terminal. He has a reputation for being an extremely picky guy who always wants the very best quality. Over the years he has developed strong and deep relationships with local growers. In some cases he is buying from the grandchild of the person he started dealing with back in the seventies.
Our Philosophy:
It is very simple…Our customers deserve best in class quality and service.
What sets Hilite apart from other produce suppliers?
Our commitment to the highest quality and friendliest service, as well as our flexibility and ability to source items that are far removed from the mainstream.  Lynn Siegal, our Specialty Buyer, is familiar with Asian, Indian and Latin American ingredients and regularly goes to Chinatown, Kensington Market, Little India and beyond to get special ingredients for our Chefs.
Community:
We have sponsored many different Chef Battles over the years, including the Nella Discovered Chefs Competition which culminated in 12 chefs competing at the Restaurants Canada Show. It is always a thrill to see our beautiful ingredients transformed by some of the most talented chefs in the industry….you can see their heart, soul and creativity on the plate.
We are also proud to be a member of the Culinary Program Advisory Committee (PAC) for Centennial College, helping guide the curriculum and giving real world feedback.
We are enthusiastic supporters of Best Before Date and The Seeds of Hope Foundation and make weekly donations of surplus produce that would otherwise go to waste.